A fantastic, elegant, and ultra-modern ring will stand out above the crowd. The unique circuit board pattern on the back is polished with a diamond compound, resulting in a polish and shine that will last forever.
This titanium carbide ring provides a tough exterior construction that boasts a modern stylish touch. The band measures 8mm wide and 2 mm thick to give that high-end feel with an eye-catching and fashionable look.
Our men's comfort fit bands are designed to be very easy to put on and take off. They also feel super comfortable on the finger and easily slide over the knuckle since they have a smooth, polished backing.
Features:
Materials: Titanium

Style: Circuit board

8mm in Width, 2mm in Thickness

Hypoallergenic, Cobalt-Free

Polished interior finish

100% Satisfaction Guarantee
Why titanium?
Titanium is highly valued in the metals industry for its high resistance to corrosion, discolouration, scratches, and fractures. It is harder than gold and platinum and is incredibly lightweight, even being so durable.
Titanium is also naturally hypoallergenic and 100% biocompatible. It's the go-to material for implants and plates installed inside the body. So they won't turn your skin green, nor will they irritate those with severe metal allergies.
*Plating is very strong and long-lasting, but we strongly recommend keeping your ring away from any tough environments.*
How To Measure Your Ring Size?
Not sure about your ring size? Don't worry, here is a simple though useful way to help you find the correct size at home.
Simply follow these 4 steps:
Wrap string or paper around the base of your finger.
Mark the point where the ends meet with a pen.
Measure the string or paper with a ruler (mm).
Pick the closest measurement on the ring size chart to find your ring size.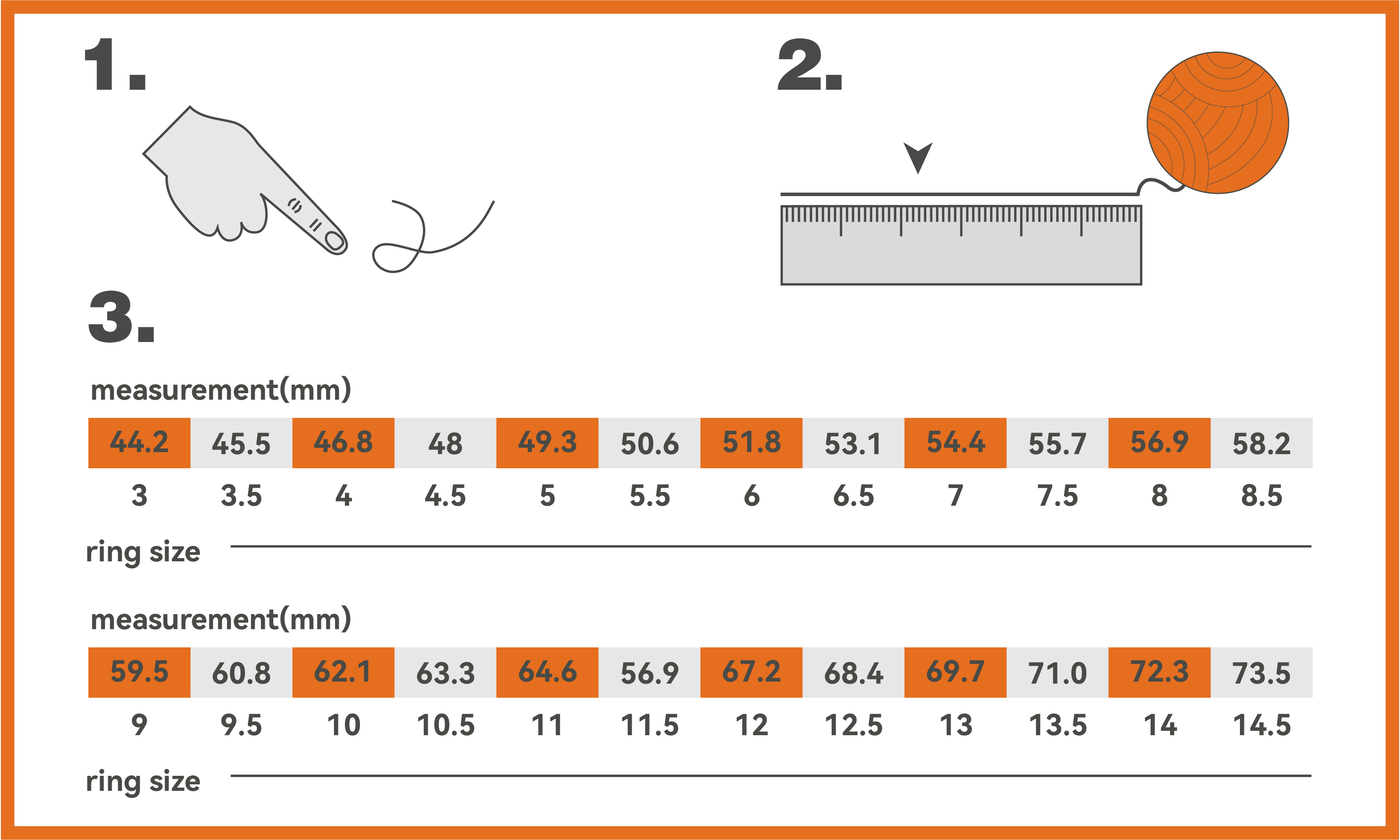 If you do not see the size you need, feel free to contact us for help placing a special order.
What If I Order The Wrong Ring Size?
Don't let the question of size stress you out. If you need a different ring, we offer a 30-day exchange policy for your convenience.